Refreshing the brand identity and community offerings
on them

them is a next-generation community platform chronicling and celebrating LGBTQ+ stories, people and voices. Our product team collaborated with the them editorial team to introduce community-centered experiences and usher in a editorial new era with an updated look and feel to the site.


Justin J. Wee
Brand
them

Time
Q2 2022

Services
Identity, Product Design

Team
Product Design: Jazzmyn Coker
Product: Brian Gottesman, Marylou Alvarez
Engineering: Mithun Sathyan, Sumit Maurya, Moshina Thajudeen, Harsha Somarajupalli, Jyoti Singh
Creative Direction: Sarah Burke, Wesley Johnson
Outcomes
Refreshed brand identity within design system
New homepage
Community channels
Increased Average Time on Page
---
A refreshed brand identity and homepage

To introduce a new era of them, we released a completely revised look for the homepage, refreshed brand identity and a new resources hub called "Answers & Advice".
Before the refresh, them's brand identity was not translated on the site and there was a disconnect between imagery and content.
Nurturing the community

Them is all about community. As part of the site redesign, we introduced new subchannels and drivers to existing content based on community interests: "Answers & Advice", "Community", and "What to Read and Stream"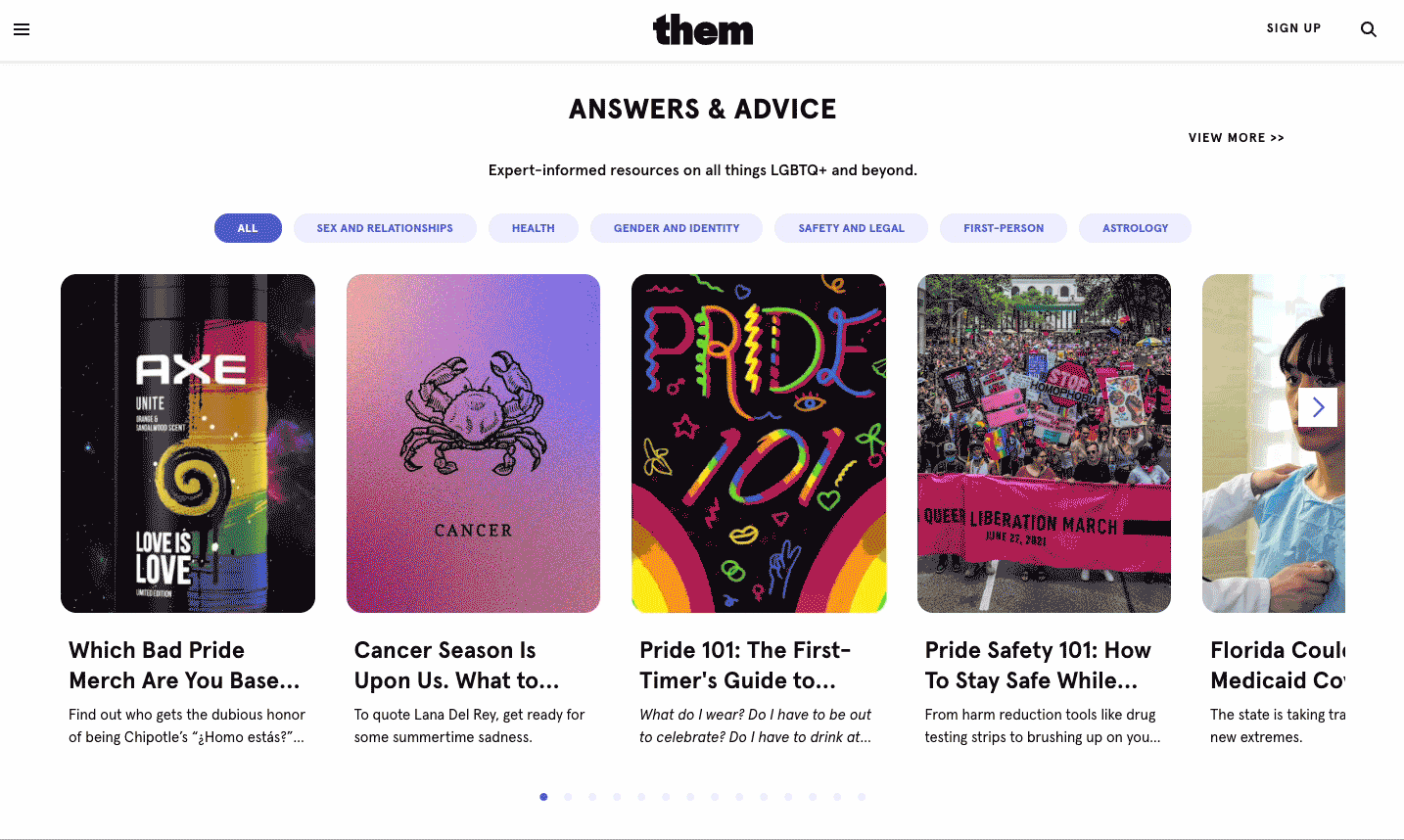 Answers & Advice
This new hub of community resources has become a key driver in organic search traffic, while keeping the audience longer on the site.
A driver to this hub is featured on the homepage with carousel that can be filtered by topic.
The hub's subchannel page also features a filter sub-navigation menu to help direct visitors to content.
Community Channel
In this new subchannel, readers can learn about individuals within the LGBTQ+ community who are inspiring the ways we think and live.
A Milestone for them

This launch marked a timely milestone for them, as they introduced to the world their new Editor-in-Chief, Sarah Burke, and their updated mission statement: "We're going beyond LGBTQ+ as a label, and focusing on what truly connects us: the queer drive to reimagine our world.